Turpin Family
Welcome! This page is about my paternal Grandmother, Edith Turpin Ford Robinson. Grandmother Edith was married first to Jefferson D. Ford, and later to George Robinson. Jefferson (Jeff) Ford was my Grandfather.



Children of Jefferson and Edith Ford:


Clarence


Wanda


Charles


Jeff

Edith Gertrude Turpin was born on January 5, 1912, in Dustin, Hughes County, Oklahoma. She was one of seven children born to James Martin Turpin and Mary Louvina (Harrington) Turpin.

Children of James and Mary Turpin:


Lillie - born on 1/24/1905, died 9/15/1944


Ray - born in 1906


Earnest - born on 8/19/1907, died 7/1986


Aley - born in 1911


Edith - born on 1/5/1912


Audrey - born in 1915


James - born in 1917

This is a document I received from Muskogee County, Oklahoma. It is a copy of the marriage record for great grandparents, James and Mary Turpin. The print is fine on the copy, so it did not scan very dark. It reads they were married on March 21, 1904, in Choctaw, Oklahoma.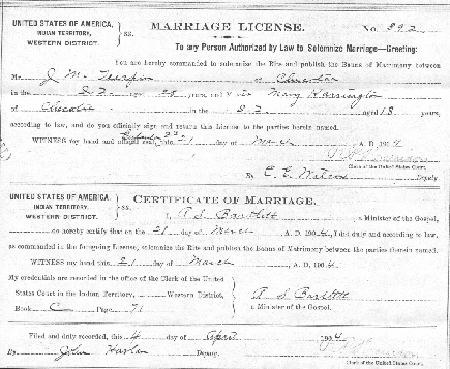 This document is a copy of Earnest Turpin's original application for Social Security, which I received from the Social Security Administration.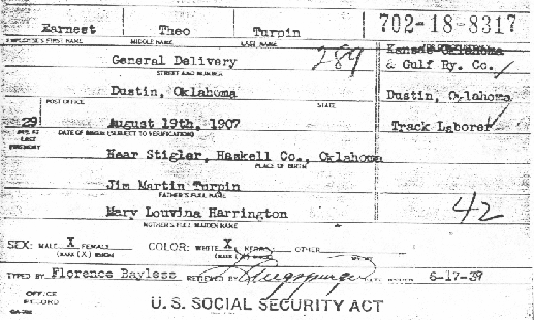 (10-27-2000)
Great Great-Grandparents, Daniel and Lillie Turpin
Daniel and Lillie Turpin lived in Cannon County, Tennessee, in 1880. Lillie Turpin was 21 years old, and too young to be the mother of the two oldest Turpin children. She could have been great grandfather James's mother, and his youngest brother Robert. This information was taken from the Cannon County, June 1880 Federal Census records.

Children of Daniel and Lillie Turpin:


William - 11 years old


Jenette - 9 years old


James - 5 years old


Robert - 3 1/2 years old

Daniel Turpin was married previously to Eliza Morris Turpin. That marriage took place on November 3, 1864, in Hamilton County, Illinois. Daniel and Eliza had two children, Sarah and William. They eventually moved to Cannon County, Tennessee, and were listed in the 1870 Cannon County census records.
Sarah Turpin was four years old, and William Turpin was one year old. I don't know what happened to Eliza and Sarah Turpin between 1870 and 1880.
Thank you for visiting my Turpin Family Page. At this time, I am still searching for more Turpin ancestors, and will update the page when more information becomes available to me.




BACK
HOME
NEXT