Bodnovich Photo Album 2
On this page are two of the photos I received from Cousin Stefan in Slovakia. The first photo was sent to me from Charles Stanislaw (now deceased) when he visited Slovakia two years ago.


Village of Porac
This photo shows the road that leads into Porac, Slovakia. The sign in the photo reads Porac. Some of the houses built in the 1800's still stand. The Village is small, and is next to the Valley area of Porac Dolina.











Tomas's House
Great Grandfather Tomas Bodnovics built this house in Porac during the mid 1800's.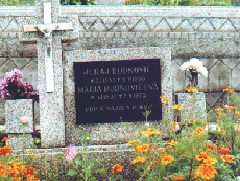 A Bodnovics Gravestone
This photo was taken at a cemetery in the Village of Rudnany. Juraj Bodnovics was born on 5-1-1888, and died in May, 1968. His wife Maria was born on 4-1-1897, and died in May, 1972.












Thank you for visiting this page. If I receive any new photos, I will add another photo page to this site.





BACK HOME NEXT